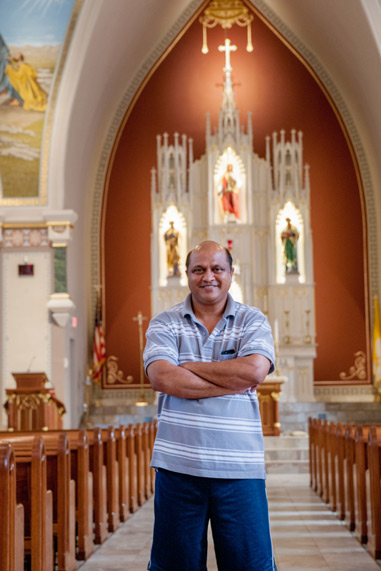 Welcome Father Arul Carasala to Sts. Peter & Paul Parish.
Father Arul Carasala became Pastor of St. Peter and Paul Parish on July 15, 2011. Father Arul was ordained a priest on March 4, 1994, for the Diocese of Cuddapah, located on the southeast coast of India. Father Arul was invited to visit Kansas by Archbishop James P. Keleher to possibly serve in the Archdiocese. Father Arul agreed and has been in Kansas since 2004. Father Arul briefly served as an associate pastor at Augustine Parish in Fidelity, Sacred Heart Parish in Sabetha and St. James Parish in Wetmore. He was then named Pastor of four parishes: St. Vincent de Paul in Onaga, St. Patrick Parish in Corning, St. Bede Parish in Kelly, and St. Columbkille in Blaine. Now Fr. Arul is serving as pastor of Sts. Peter and Paul Church since July 2011..
On May 20, 2011, at the Federal Courthouse in Topeka, Kansas, Father Arul became an American citizen. Becoming an American does not mean cutting ties to India for Father Arul. As an Amercian of Indian birth, the Indian government grants him OCI status — Overseas Citizen of India. As an OCI, He doesn't need a visa to go to India. And his American citizenship makes travel here and elsewhere easier. Father Arul states that his primary citizenship is United States. Father Arul feels the priesthood, indeed, the church, is universal and the church is home wherever he is.
On July 1, 2011, an article featuring Father Arul was written in the newspaper of the archdiocese of Kansas City in Kansas, "The Leaven". To read this article go the the website: www.theleaven.com and on the first page click on News and scroll down and click on past issues, and then click on issue 33, no. 1. Father Arul's article appears on the front page and continues on page 7 of the Leaven.