June 29th & 30th, 2013  . . . . . . .
Welcome to Fr. Mariadas Sesetty,  (Fr. Das),  a missionary of St. Francis De  Sales/MSFS,  who will be helping out in our parish for a while this summer.    Fr. Das assisted Fr. Arul with all of the Masses this weekend in our parish.
Here both Fr. Arul and Fr. Das are greeting the parishioners before and after the 5 pm Mass.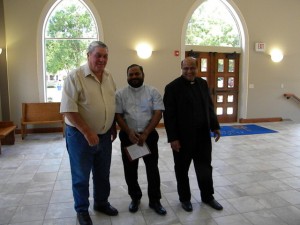 – – – – – – – – – – – – – –