St. Ann's Alar Society  –   Labor Day Picnic
Sts. Peter & Paul Church,    411 Pioneer St.             Seneca,   Kansas 
Sunday,  September 2,  2012
Serving for the  Roast Beef  &  Ham  Dinner  begins at 4:30 pm
Price:          $8.00 for adults;    $4:00  for children
Purchase dinner tickets & wait in the air-conditioned church.     Take out available   –    at the WEST Door of the Parish Hall.
Air-Conditioned  Hall  ;  Handicapped Accessible
Bingo,  Concessions,  Games  begin  at  5:00  PM
Beer Garden:    5:00  pm  to  11:00  pm
Auction:     8:30 PM    –    Quilts and other items
Dance:    8:00 pm  to  11:30 pm   –   Sts.  Peter & Paul Auditorium  –   $3:00  per person
Labor Day Picnic-Worker List-2012
– – – – – – – – – – – – – – – – – – –
Photos  taken  during  the  evening:
Take out dinners were organized on the west side of the parish hall: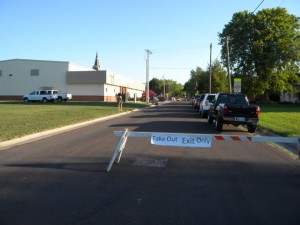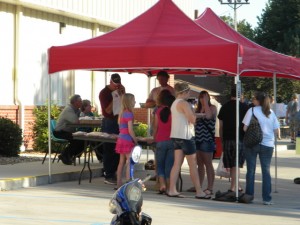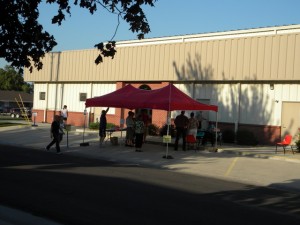 The main room of the parish center served many meals with members of the parish preparing and serving the meal: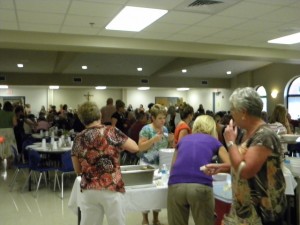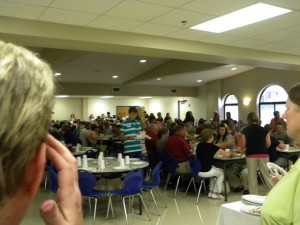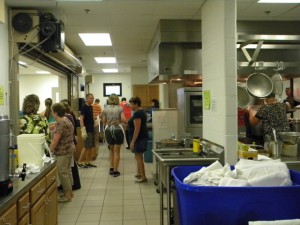 Outside on the parish grounds the games and many activities were going on: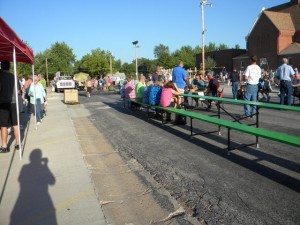 At the Chance booth they were selling  chances for the items listed and for names to be drawn during the auction later on in the evening.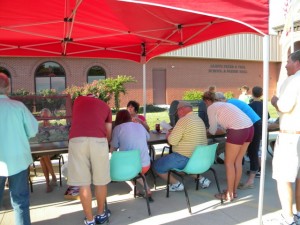 Chances were sold for this quilt and the name of the winner would be drawn during the auction: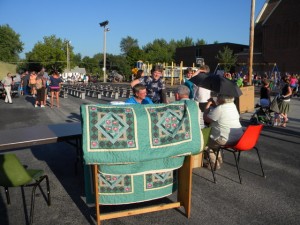 Here they had on display the projected picture of what the inside of the church will look like when the renovation project will be finished.  (a photo of this is shown in this website on another page.)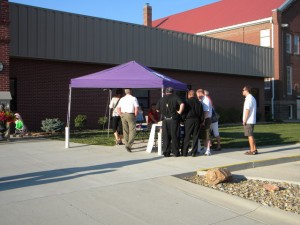 These next two photos show the quilts on display for the auction and other items to be auctioned off: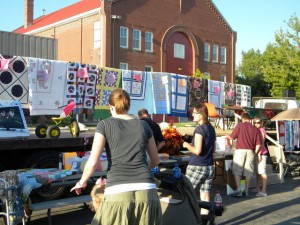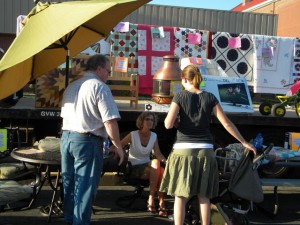 The remaining photos show pictures of the various games and those who attended the parish picnic during the evening.
The cake walk was a favorite of the evening.   There were three cake walk setups and all three were busy all evening.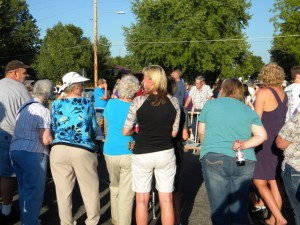 The nature center was a great play area and gathering place.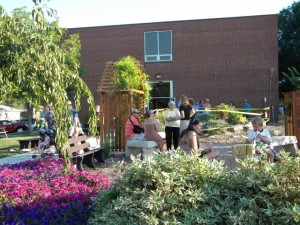 This little boy won a truck at one of the games and had to come over to the play area and try it out right away his mom said.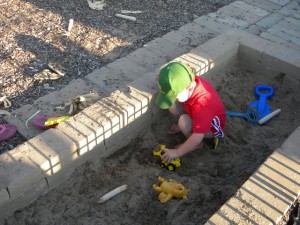 His mom and older brother watched him play in the sand.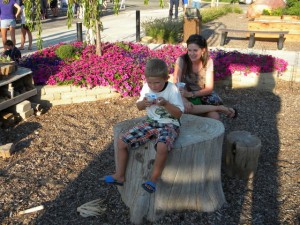 Basketball Game: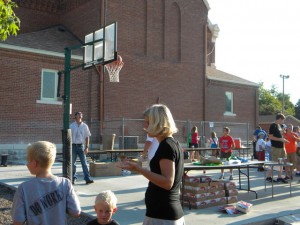 Putt-putt golf:
Plinko: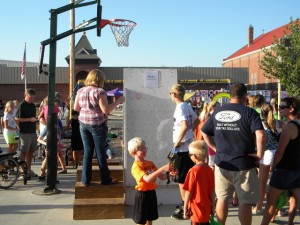 Bingo: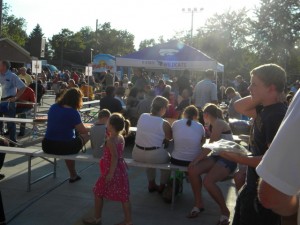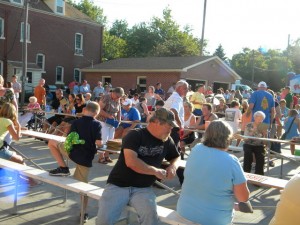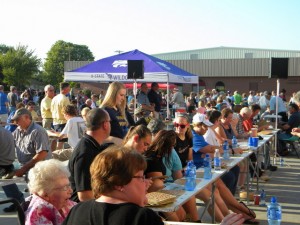 Country Store: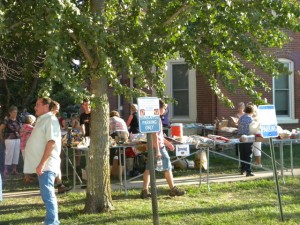 Various photos of the crowd: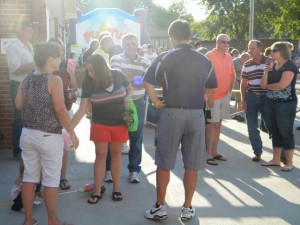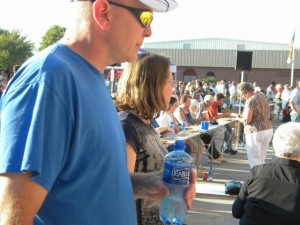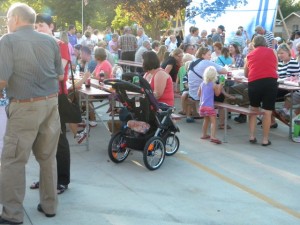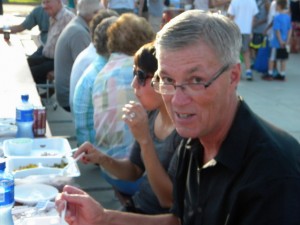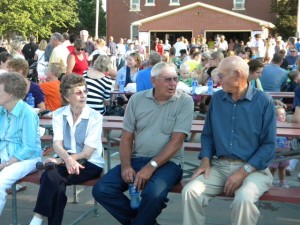 The BAll Throw: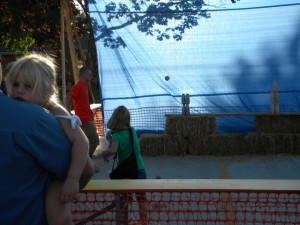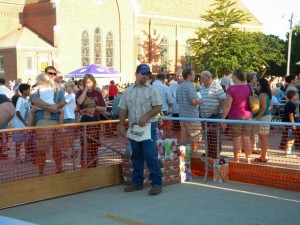 Other games and fun areas: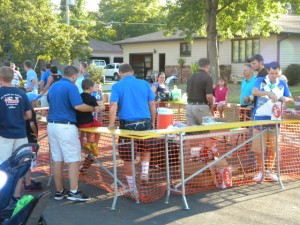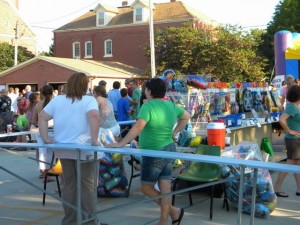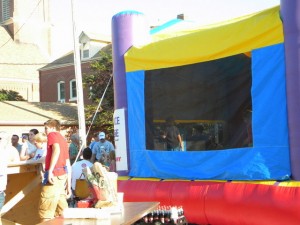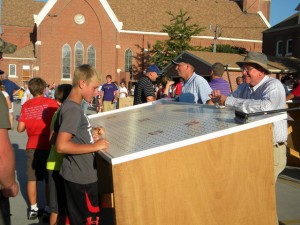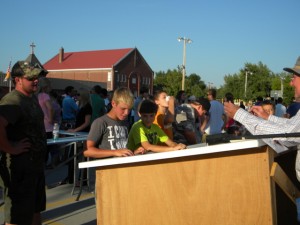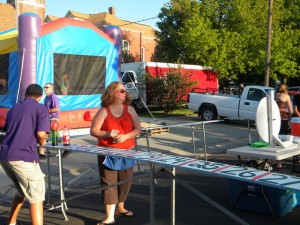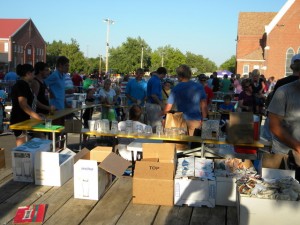 And last but not least" the smile of a winner".: